The following is a thumbnail sketch, or synopsis, of a true-life story about…
Two kids searching for love while growing up in dysfunctional families. They meet by chance in a brief encounter on the steps at their school. The protagonist brushed her off and then regretted his rude behavior. A week later fate would bring them together at a picnic by a lake. Soon they were seeing each other as often as they could—the sexual tension escalated until it finally happened—they made love on the sofa in her basement. Their desire for each other could not be fulfilled and soon she became pregnant at the age of sixteen. Shamed and embarrassed their families move from the small town where they both grew up.
They become separated by distance and watchful parents, and because they were unable to stay connected their relationship dissolved. She has the baby at a home for unwed mothers and had agreed to give the child up for adoption, but once she held him in her arms she would not let him go.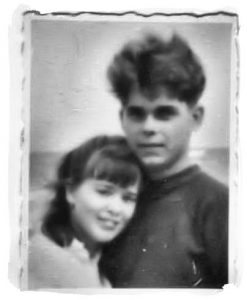 Meanwhile, the baby's father became haphazard and lives carelessly in the moment—music is his only passion, but with emptiness for his future, he lives without regard to consequences. He meets a young girl who seems to be on the same destructive path. She's playful and impulsive. They begin to feed off each other's cravings for pleasure. She teases him, saying they are like Bonny and Clyde, and that their relationship will end tragically. Within weeks of their vicarious fling, he is blamed for burglary and she steals from a liquor store. The relationship is doomed, but neither wants to walk away.
Months later, he receives an anonymous letter announcing the wedding of the only girl he has ever loved. He must see her one more time before she is gone from his life forever. The meeting is brief and sad, and without resolution, but it has awakened desire. A week later, she shows up at his workplace to tell him she has broken off her engagement. He asks her to marry him, but his parents refuse to give their consent and they must wait until he reaches the legal age of eighteen. She tells him how much she loves him and they set a date for three days after his eighteenth birthday. He loves her with all his heart, but struggles to say the words, "I love you." Two days after they are married, her love breaks down his barriers, and he finally says what was always in his heart.